The following situations are applicable:
a.There are bases and some supports on the printing platform, but there are no models or only partial models.
b.The model falls off the print platform during the printing process.
c.The model cracks halfway through printing.
Usually, insufficient support at the lowest point of the overhanging part of the model can cause the model to not connect to the support at the beginning, resulting in only supports being printed without the model.
The layer height can be pulled below the model, and additional fine supports can be added to the bottom of the model, as shown in the red circle in the figure below. Alternatively, a circle of fine supports can be added slightly higher than the lowest point (the yellow part in figure 2 is additional supports added later).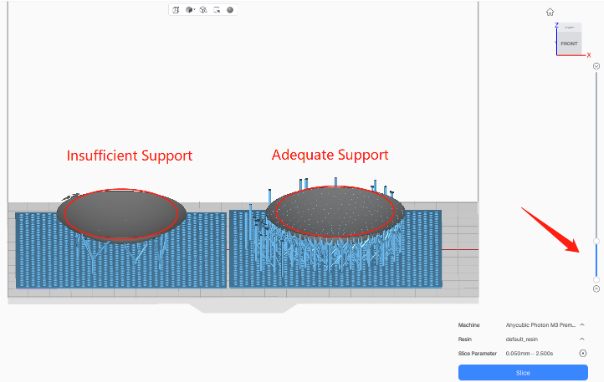 Using the Anycubic Photon Workshop V3.0 slicer software as an example, the "Check Islands" feature is enabled, and the progress bar is dragged to browse through each layer's sliced image.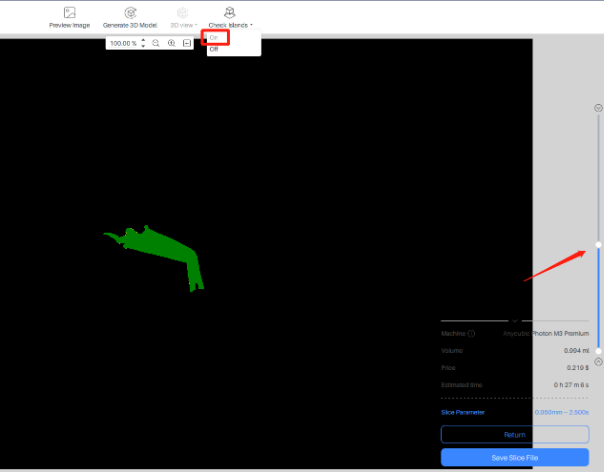 The green part means there is support below; the yellow part is connected to other parts but may be suspended and may need supports; the red part is completely suspended and must be added supports.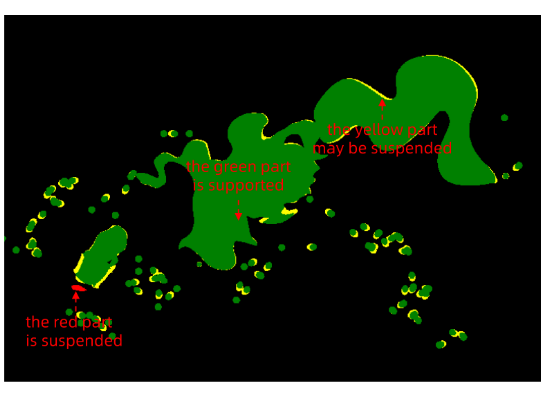 ① Increase the insertion distance model and top width of the support appropriately.
Insufficient insertion distance and top width of the support may cause the support to fail to hold the model due to the weight of the model, leading to the model falling off the print platform, etc.
You could increase the insertion distance and top width of the support appropriately. Please note that if the value is too large, it will be difficult to remove the support, and there will be obvious support marks on the model after removing the support.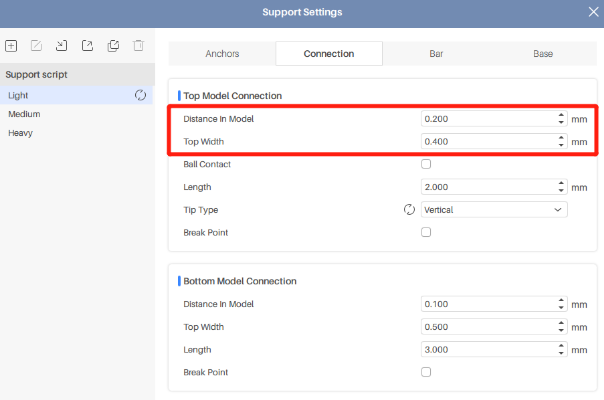 ② Hollowing out the model and make punch to reduce the weight of the model.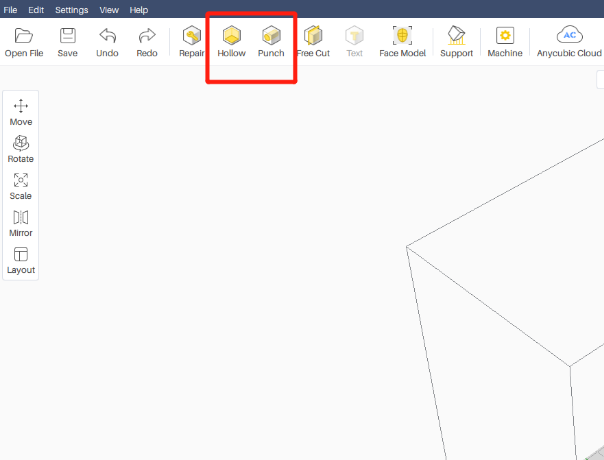 If a model file with supports has been successfully printed before, this problem may be caused by changes in temperature or environment. Insufficient exposure time may cause the model to not solidify completely. It is recommended to increase the normal exposure time by about 0.5-1s.
If you have recently switched to a different type of resin, it is recommended that you consult the resin manufacturer to see if you need to adjust the printing parameters.
If you have further questions, we suggest you create an after-sales ticket and our After-sales engineers will help you solve the problem. (Reply time :1 working day)
Please click this link to submit your ticket: