The Anycubic Wash & Cure 3 simplifies 3D print post-processing with its versatile design. The double-layered PP material cleaning basket supports simultaneous cleaning with the platform, with adjustable heights from 100mm to 165mm, accommodating platforms ranging from 5.9 to 7.3 inches. This maximizes IPA efficiency.
Switch between cleaning and curing modes with a single click. The innovative Flexicure Gooseneck Light Design enhances curing with 30,000uW/cm² energy output within 1-3 cm, ideal for detailed areas.
The Anycubic Wash & Cure 3 features an infinite rotary knob control, offering adjustable curing times from 1 to 30 minutes. This device streamlines post-processing, ensuring effective cleaning and curing for your 3D prints.
Official product page: Anycubic Wash&Cure 3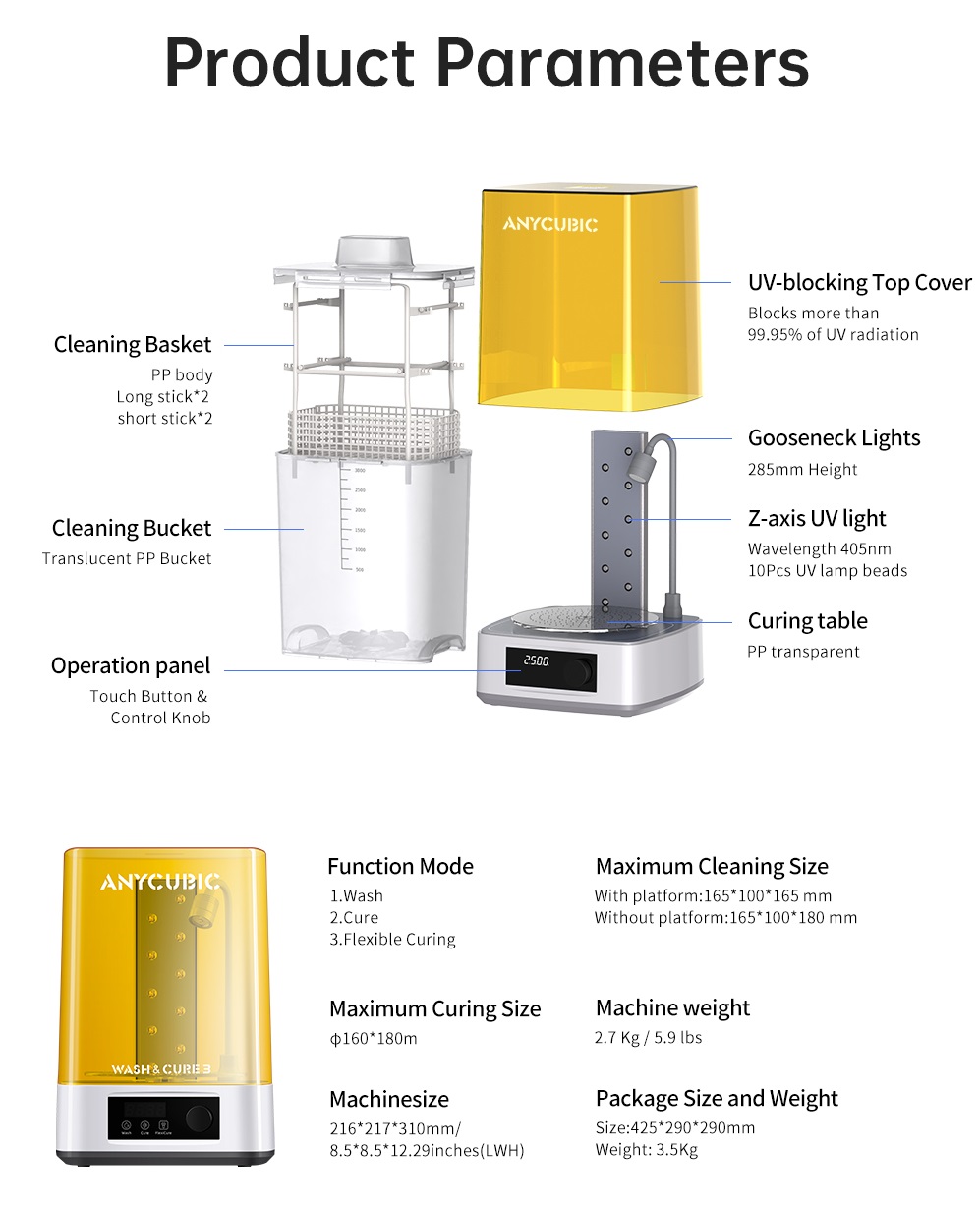 ¶ Maintenance
The solvent in the washing bucket might become muddy after long-time washing. The solvent can be recycled through the following treatment.
lt is recommended to dispose or replace the solvent after washing 30 models to ensure the washing effect.
Allow the washing solvent stay still for over 10 hours so the residue could be precipitated and settled.
Filter the top layer of solvent and pour it into another container. Then, seal the container.
Expose the residue in the sunlight, Then, the cured resin can be handled as general solid waste.

The rotor may rotate abnormally after long-term use, you can remove the rotor from washing bucket to clean it.
Please take off the washing bucket from the base and drain the solvent before cleaning.
Remove the rotor at the bottom of bucket and then clean it.
Install the rotor.

¶ Maintenance
¶ Mainboard
Poor power contact. Pull out the power cord and plug it in again.
The anti-UV cover is removed in the cung process. Please put on the cover.
The rotor is stuck by foreign matter. Stop washing, pour out the solvent and remove the foreign matter.
There are too much precipitation in the washing solvent. Stop washing, drain the solvent and clean the precipitation.
The ground where the machine is placed is not flat enough.
The screw on the rotor is loose. Tighten the screw.
¶ Part of print objects are white after wash and cure.
The concentration of the alcohol which is used for washing is not high enough, Use alcohol with concentration exceeding 95%.
The printed obiects are cured immediately after washing. Please air dry them before curing.
Try again or reboot the machine.