Anycubic Photon M3 Premium with enhanced ZAxis precision, a 10.1" monochrome exposure screen, and the powerful LighTurb 2.0 Light Source,
your creations come to life with exceptional detail. Seamlessly connect via USB or WiFi, and print at speeds up to 95mm/hr. The printer offers a
spacious printing volume of 6.7L, with dimensions of 9.9 x 4.9 x 8.6 inches. Experience the future of precision printing with Anycubic Photon M3 Premium.
Official product page:Anycubic Photon M3 Premium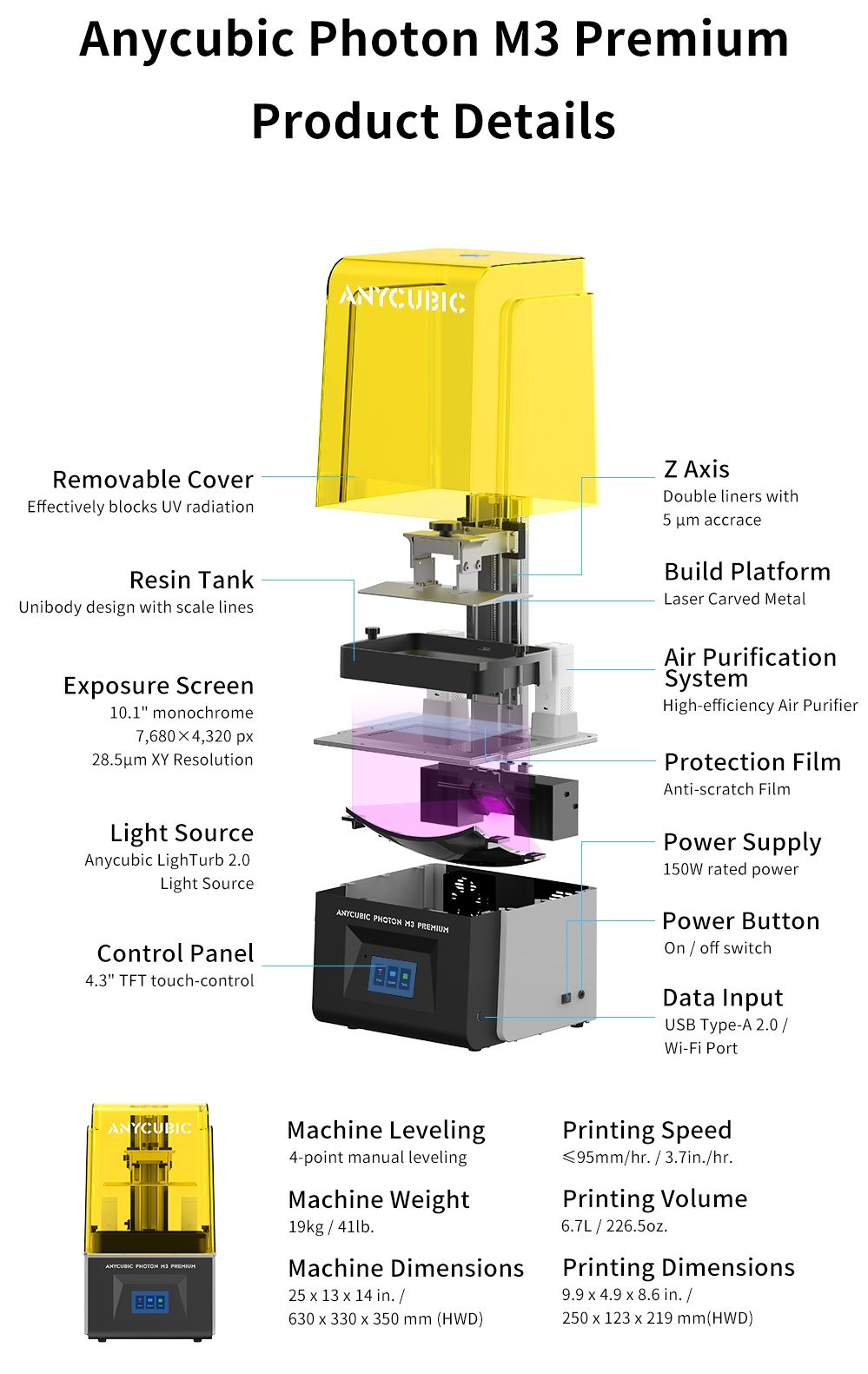 Resin type
Print parameter
Basic Resin
Plant-Based Resin
DLP Craftsman Resin
UV Tough Resin
Water-Wash Resin+
Standard Resin+
ABS-Like Resin+
Plant-Based Resin+
ABS-Like Resin Pro
High Clear Resin
Layers Thickness(mm)
0.05mm
0.05mm
0.05mm
0.05mm
0.05mm
0.05mm
0.05mm
0.05mm
0.05mm
0.05mm
Normal Exposure Time(s)
2.5s
2.5s
2.5s
2.5s
2.5s
2.5s
2.5s
2.5s
2.5s
4s
Off Time(s)
0.5s
0.5s
0.5s
1s
0.5s
1s
1s
0.5s
1s
0.5s
Bottom Exposure Time(s)
25s
25s
25s
25s
25s
25s
25s
25s
25s
25s
Bottom Layers(s)
2
2
2
2
2
2
2
2
2
3
Z Lift Distance(mm)
8mm
8mm
8mm
8mm
8mm
8mm
8mm
8mm
8mm
8mm
Z Lift Speed(mm/s)
6mm/s
6mm/s
6mm/s
6mm/s
6mm/s
6mm/s
6mm/s
6mm/s
6mm/s
6mm/s
Z Retract Speed(mm/s)
6mm/s
6mm/s
6mm/s
6mm/s
6mm/s
6mm/s
6mm/s
6mm/s
6mm/s
6mm/s
¶ Maintenance